POIC + RAHS and Bridge Meadows Receive $400,000 from Bank of America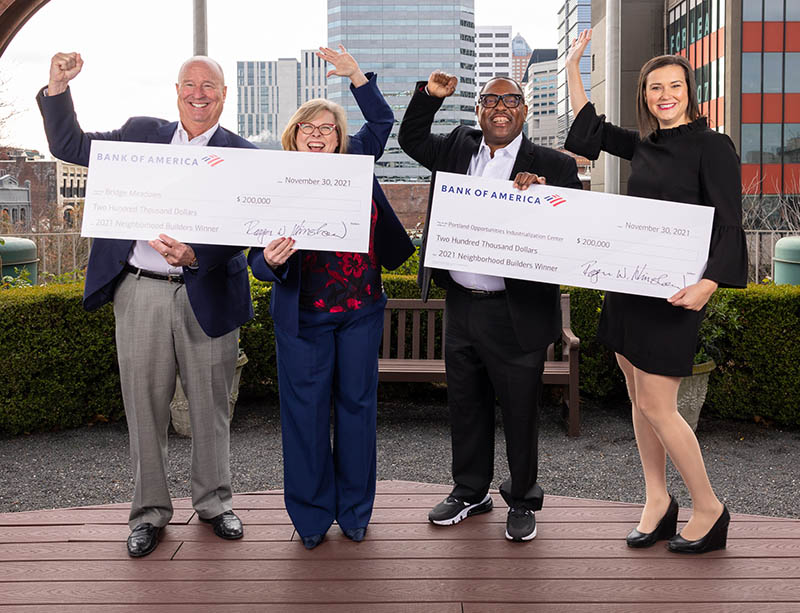 Portland Opportunities Industrialization Center + Rosemary Anderson High School (POIC + RAHS) and Bridge Meadows have been named as the 2021 Bank of America Neighborhood Builders® awardees for their work in the Portland area addressing the region's issues around homelessness and systemic injustice. With this recognition, they will be able to scale up to help even more people through a multi-year grant from Bank of America.
As Neighborhood Builders, each organization receives a $200,000 grant, comprehensive leadership training for the executive director and an emerging leader on topics ranging from increasing financial sustainability, human capital management, and strategic storytelling. They join a network of peer organizations across the U.S. and get the opportunity to access capital to expand their impact. The program continues to be the nation's largest investment into nonprofit leadership development.
"As communities continue to recover and navigate a changing landscape, nonprofits are still experiencing significant demands and are in need of resources to help meet critical local needs such as workforce development and affordable housing," said Roger Hinshaw, President, Bank of America Oregon and Southwest Washington. "POIC + RAHS and Bridge Meadows are bridging important gaps for individuals and families to help them chart a path toward economic opportunity and stability. Programs like Neighborhood Builders helps these organizations grow sustainably and strategically for greater positive impact in our community."
POIC + RAHS has served Portland for more than 50 years, assisting more than 3,000 historically underserved students, work trainees and families annually through alternative education, workforce development and family outreach. They also provide wraparound services, such as youth mentoring programs, leadership development, and career coaching for families impacted by the criminal justice system. The Neighborhood Builders grant will support their newest project, "The Kitchen." It will become a culinary education training ground for the community, particularly communities of color, and will provide nutritious lunches to students at Rosemary Anderson High School, which currently purchases lunches from another school district.
"Our students are hungry. And not just for food. They crave leadership opportunities, genuine adult mentorship, safe outlets for creative expression, and pathways to meaningful, living-wage career options. At POIC + RAHS, we want to do more - we want to nourish them," said CEO and President of POIC + RAHS, Joe McFerrin II. "More than standard school lunches, we want to provide nutrient-dense food made with love and offered with an invitation to heal - emotionally, physically. With help from Bank of America's funding through the Neighborhood Builders' grant, The Kitchen is where all of these opportunities come together - health, education, employment, community, camaraderie. The Kitchen is where real nourishment will start for our students, their families, and our shared community."
For 10 years, Bridge Meadows has brought generations together to improve health and well-being through meaning, purpose, and belonging. Built around the concept of interdependence, Bridge Meadows' affordable housing communities support 300 children who have experienced the foster care system, their adoptive families, and elders, who serve as mentors. Bridge Meadows provides safe, affordable housing and interrupts the cycles of poverty, instability, and isolation that weaken communities over generations. The organization hopes to double capacity over the next two years. The Neighborhood Builders grant will allow them to expand, hire staff, and can even help grow their current affordable housing communities.
"We are truly honored to be awarded the Neighborhood Builder Award by Bank of America," said Dr. Derenda Schubert, Executive Director of Bridge Meadows. "Together we can ensure children, families, and elders live safe and abundant lives. This partnership ensures children, families and elders know they belong in the community and that their lives matter. Investment from Bank of America will significantly impact Bridge Meadows and catapult us from a local organization serving several communities in Oregon to a regional – and eventually national – organization capable of impacting countless lives across the region."
Since 2004, Bank of America has invested more than $280 million in 50 communities through Neighborhood Builders, partnering with more than 1,400 nonprofits and helping more than 2,800 nonprofit leaders strengthen their leadership skills. Here in Portland and Southwest Washington, 27 nonprofits have been selected as a Neighborhood Builder, with the bank investing more than $5 million in these local organizations through the program since 2004.
To learn more about the partnership, click here.
Bank of America is your pass to arts and culture! The first full weekend of every month, present your Bank of America or Merrill Lynch credit or debit cards at Portland Art Museum, the Japanese Garden or over 150 museums across the country to receive complimentary general admission. Learn more at museums.bankofamerica.com.